Before I begin my post I would like to say - I FINALLY RANKED #1 (2, 3 and 4) ON GOOGLE FOR "SEO CHRISTOPHER YEE" !!!!!!!!!  Although #1 goes to my LinkedIn profile, it doesn't bother me at all because I know that it's ME and not some other dude.  This is one small step for Chris and one giant leap for Christopher Yee!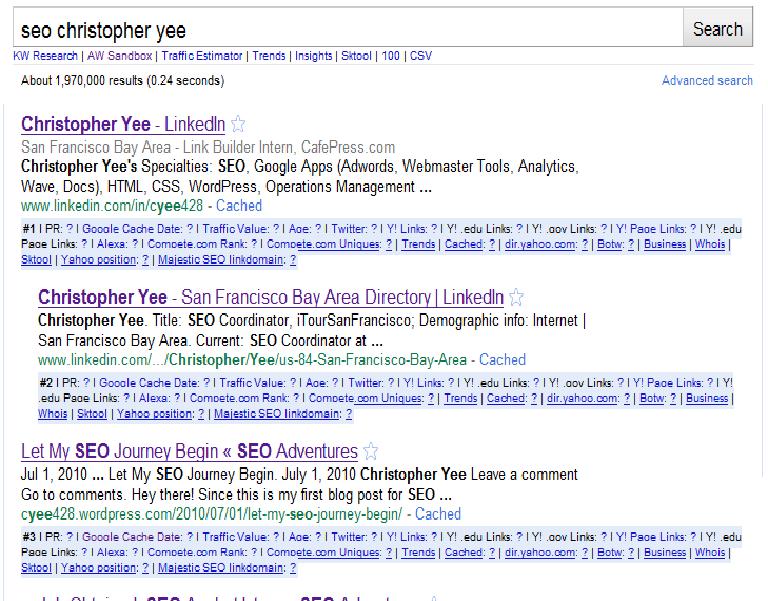 With that out of the way I can now focus on the blog post.
If you haven't noticed already, my SEO Adventures (cyee428.wordpress) blog has been deleted for this new domain name.  I am conducting this test to quell my curiosity about how Google handles domain name changes and duplicate content.  I want to know what is going to happen to both blogs.  How long will it take for Google to rank this blog?  Will it even rank at all?  I had to export all files and posts from SEO Adventures before I could import them to SEO Christopher Yee….will Google consider that duplicate content?  How much will I be docked and for how long if that happens?
Another reason for this test is to further optimize  my blog.  If I can rank for SEO Adventures under the prefix of cyee428 in 2 months (#62), I can theoretically rank faster for SEO Christopher Yee with the domain prefix of seochristopheryee - granted I don't get penalized for duplicate content.  In the end, I hope this will translate to higher visibility for myself when employers search for my name.
And YES, I had to go through all my posts to replace SEO Adventures with SEO Christopher Yee since I am not trying to rank for that keyword anymore.  I also had the meticulous process of sifting through all my internal links and editing them to reflect my new blog prefix.
We'll see what happens…stay tuned!